The Best Jacksonville Birthday Parties!
Let's celebrate the Adventure Landing way! It's your birthday, and we are ready to host the perfect celebration. For groups of eight or more, we set up parties that will blow you away! We offer food, fun, and games that will make your special day a blast! When you are thinking of places for a fun and memorable birthday, make us your first choice.
Adventure Landing has a wide array of birthday party packages that can fit any group! It doesn't matter how old or how young you are; we have ideas and entertainment for everyone. By including a team to help set-up for and break-down after your birthday party, we let you sit back, relax, and enjoy your day. Adventure Landing takes care of everything!
$20 OFF
Get $20 Off Any Party Package!
Plus, Get 100 FREE Arcade Tokens When You Book Your Party To Be Held Monday-Friday!
Adventure Landing has a great range of games and entertainment to make your birthday special. Our birthday party packages include a selection of attractions, but you can adjust as you see fit. We are here to accommodate every group!
If you want to challenge your friends and family, play some rounds on our miniature golf courses. Are you looking for the big win? Jump into our arcade with over 100 interactive ticket redeeming games. We can keep your birthday party going for hours. Head down to Adventure Landing and see everything we have to offer.
You can even expand your experience from Adventure Landing to Shipwreck Island Waterpark! During the right seasons, come enjoy Little St. Johns River, Typhoon Lagoon, and so much more!
Packages Include
All party packages include:
Decorated Party Table
Trained Party Captain
Unlimited Soft Drinks
Party Essentials
Birthday Bags with Coupons
Online Invitations
Add-Ons
With our birthday party packages, you can add food, tokens, and even attractions! Popcorn, cake, go-karts, the list goes on and on!
Birthday Cake
Large Pizza
Chicken Tender Platter
Loaded Cheese Fries
Nacho Supreme Platter
Unlimited Popcorn
Caesar or Garden Salad Bowl
Dippin' Dots
Extra Tokens
More Attractions
It doesn't matter how old or how young you are. Here at Adventure Landing, we have packages tailored to any party and any budget. Our packages include a Party Captain that will help organize and host the event. They are here to act as your personal party planner to work for the perfect birthday. We are ready to help!
We are happy to work with you to make your birthday unique.
Plan your birthday party with Adventure Landing today! Get a jumpstart by booking online.
Do You Have Any Guests That Require Special Accommodations?  Give Us A Call Prior To Booking Today To Discuss.
Kids Fun Center Parties
Arcade Tokens for Each Guest
Unlimited Miniature Golf
Unlimited Soft Drinks
Birthday Bags with Coupons & Discounts
Teen Fun Center Parties
3 Hours of Unlimited Attractions
Arcade Tokens for Each Guest
Two Hours Unlimited Soft Drinks
300 Redemption Ticket Voucher for Birthday Honoree
Water Park Birthday Parties
One Hour of Unlimited Mini Golf
Two Adult Waterpark Admissions
Choice of Hot Dog or Slice of Pizza Per Guest
Free Super Saturday Pass for Birthday Honoree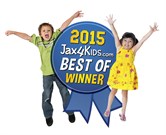 We Were Voted Best Place To Party For Ages 7-12 In The Jax4kids 2015 Best Of For Families Survey!